Hey guys man its been a while or years probably. I have changed myself around lately and try to be a better person. I am single again why well i had a boyfriend actually his name is Aaron hack and he lives in Maryland kinda like Evelyn. He treated me right then my other exs did to me, he was so sweet and understand guy. I loved him so much and he got me a promise ring it wasn't much really. He almost made one year but sadly we broke up before June 23 2016.
Reason was that he had a lot on his mind and it wasn't fair to me that he didn't give me 100% overall
Here is a little thing about him: He is 23 years old, doesn't have a job, no SS and lives with his mom and dad. He has one brother who is married with one child. He wants to be in college to become a chief, well thats about it. I have a new phone its an iphone 6 still wanted the samsung. I don't have At&t anymore i have T-Mobile with the same number. I still work at giant same place like the last three years going to make four soon. I have my driver's licenses with my moms old car, my dad got a van and he gave his car away to my mom. There is a possible chance i might transfer to another giant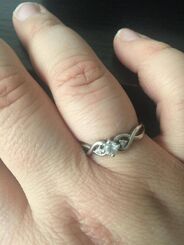 Ad blocker interference detected!
Wikia is a free-to-use site that makes money from advertising. We have a modified experience for viewers using ad blockers

Wikia is not accessible if you've made further modifications. Remove the custom ad blocker rule(s) and the page will load as expected.