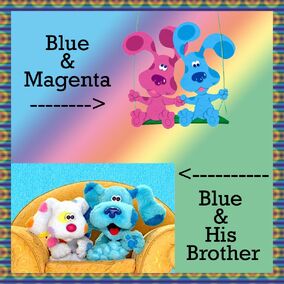 Blues Clues was one of my favorite childhood shows. I loved the interaction with the audience and how it blends real life and cartoons. I loved Blue and Maganta together as friends. I also love Perriwinkle. He was the cutest cat!
FACT: Blue's Clues was originally going to be called Blue's Prints, and Blue was going to be a cat! :O
I saw and loved the special where Blue found his baby brother! :D
Ad blocker interference detected!
Wikia is a free-to-use site that makes money from advertising. We have a modified experience for viewers using ad blockers

Wikia is not accessible if you've made further modifications. Remove the custom ad blocker rule(s) and the page will load as expected.