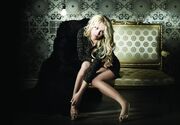 One of my fave singers is Britney Spears! I always knew and listened to some of her songs, in 2007-2008 mostly. I always knew her older hits like "Baby One More Time" and "Toxic" 
I had always heard Selena Gomez talk about how much she loves Britney and how her music is so good, so I decided to take her word for it! I downloaded 3 of Britney's albums, "Blackout" "Circus" and "Femme Fatale" I fell in love with the music instantly. 
I also personally know another Britney Spears fan! It is Margaret! (My neighbor, Jyerr's grandmother, in case you didn't know already lol) Sometimes, Margaret and I play music outside, we sit outside by the fire and talk, and we also dance! And she loves Britney's song "Toxic," so we danced to that, and one night I brought over my Femme Fatale CD, and Jyerr was dancing to "Til The World Ends" and "Hold It Against Me!" And it was funny because when we were done I said to Margaret, "We had a nice time with Britney!" and she said, "I love her to death!" :P
Fave Britney songs:
Seal It With A Kiss
Toxic
Inside Out
Gimmie More
If U Seek Amy
Break The Ice
Outta This World
Toy Solider
Til The World Ends
Hit Me Baby One More Time
The Hook Up
(I Got That) Boom Boom ft. Ying Yang Twins
Outrageous
Touch Of My Hand
3
Get Back
Circus
Mmm Papi
Unusual You
Rock Me In
Phonography
Ooh La La
How I Roll
Selfish (This one used to be my faaaave song!)
Many more, too many to list! :P
Ad blocker interference detected!
Wikia is a free-to-use site that makes money from advertising. We have a modified experience for viewers using ad blockers

Wikia is not accessible if you've made further modifications. Remove the custom ad blocker rule(s) and the page will load as expected.