I first heard about Fidget Spinners at my job at the school! A 5th grader named Nathaniel said to me, "I want a Fidget Spinner so badly!"' and I said, "Oh? What is that?" he proceded to tell me, and as the weeks went on, I saw students and teachers alike start having them! i thought they were so cool, how they balance and spin so well either in my hands, fingers, or on the tables! They are relaxing and fun! I quickly became addicted to them, and John loves them as well! My first 3 or 4 I got at Wegmans, (same with John) and we have found them at various other stores like Walmart, Toys R Us and of course, online! Today (7-10-17) John's one friend 3D printed a Pokemon Pokeball one with 3 Pokeballs on it! Picture is down below.
Also, I remember in Ocean City I wanted a Fidget Cube so badly as well! I love dice and it looked like a dice kind of with other cool fidget gadgets on it! It was so hard to decide but I never got one there. instead John and I later on at Walmart found an official brand (Antsy Labs) Fidget Cube so we have one of those as well! I also have a Spinner of the same brand that matches it in color!   
#iamasuperstar (talk) 00:25, June 21, 2017 (UTC)
Stefanie's Collection
Edit
Anthony's Collection(?)

Edit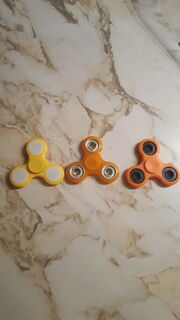 Ad blocker interference detected!
Wikia is a free-to-use site that makes money from advertising. We have a modified experience for viewers using ad blockers

Wikia is not accessible if you've made further modifications. Remove the custom ad blocker rule(s) and the page will load as expected.