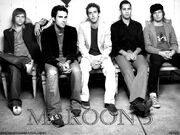 This page is about the band Maroon 5. Me and My Friend Evelyn Simpson like them a lot! I have their album "It Won't Be Soon Before Long." I remember thier song "Wake Up Call" was playing when I was getting my braces on and the dentist was singing it. Well, more like whistling it. Haha! OK Ev, your turn to write something! :)
Evelyn's Point of view:
Edit
i love maroon 5! my favorite band/singer! at the dentist, when i was getting my extractions, mom said she'd buy me one f there album and she didnt yet! anyhoo, here are my fvorte songs by thm!
Misery
this love
sunday morning
she will be loved
makes me wonder
moves like jagger
wake up call
stutter
payphone
wont go home without you
out of goodbyes