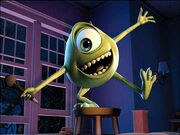 You gotta admit he is hilarious! I watched my DVD of "Monsters, Inc." today, LOL it is a good movie! I think he is funny and cute! Creature cute, not crush cute, LOL!
"I'm...ON THE COVER OF A MAGAZINE!"
"Put that thing back where it came from, or SO help me...!"
"YEEEEEOWWWWWWW!"
"Once you name IT, you will start getting attached to IT."
"What are you doing?"
#iamasuperstar (talk) 01:55, June 28, 2013 (UTC)
Moar pixs!
Edit
Ad blocker interference detected!
Wikia is a free-to-use site that makes money from advertising. We have a modified experience for viewers using ad blockers

Wikia is not accessible if you've made further modifications. Remove the custom ad blocker rule(s) and the page will load as expected.