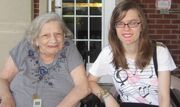 Miss. Margery Brunner is a woman I have known since I was about 6 year old! As of 2013, she is 91 years old. Despite her age, she is still very much there, she talks a lot, makes funny jokes, and she is like a grandmother to me. She is very special to me. :)
As I do not remember our exact meeting, my mom says she remembers one day, me, her and my dad were outside going for a walk, and she was a woman in her 70s who was my neighbor. She saw me around a few times and wanted to know who the little girl was she was always seeing. She called our next-door neighbor and her friend, Marion and asked who I was. I am guessing she told her I was Larry and Christy's young daughter, and one day Margery called here. She had said she had some little toys and candy to give to me, and from there I began to develop a grandmother-like relationship with her.
"A chew toy!?" "It's NOT a chew toy!!" ~ I Am A Superstar!! : ) (talk) 03:49, March 31, 2013 (UTC)
Something I rarely discuss, but can if you ask me to, is my relationship with my grandmother on my dad's side. Let's just say that Miss. Brunner is much more of a grandmother to me then she ever was. I have known her for over 10 years, and until Sept. 2011, she had lived at the end of the alley behind my house. Like 1 minute walking distance from my house. I always would go over there to talk to her, help her with her trash, and also my mom and I used to take her grocery shopping or we'd go to a restaurant. She's always been there to talk to me and listen to me. She has many interesting stores she tells!
In Sept. 2011 she could no longer live on her own, and she was moved to a local nursing home. My mom and I usually visit her every Sunday there. It's pretty fun there and there's lots of nice seniors there! In fact tomorrow is Easter and my mom and I will be spending our Easter there with her. We also would celebrate Thanksgiving with her as well.
Ad blocker interference detected!
Wikia is a free-to-use site that makes money from advertising. We have a modified experience for viewers using ad blockers

Wikia is not accessible if you've made further modifications. Remove the custom ad blocker rule(s) and the page will load as expected.