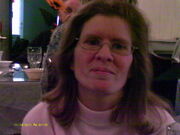 This will be a page on my mom! We get into fights but I still love her. :) I tell her mostly everything and she is there for me a lot.
My mom had me when she was 30 years old. I was born prematurely and I had a 50/50 percent chance of living. I was born Jan 3rd but my due date was April 10. Her and my dad were very happy to have thier first and only child. :)
She started talking to my dad on the phone. He was a radio DJ and she would always call him and request songs on the radio station that she wanted to hear. One day, they started talking about a movie that they both liked, "American Werewolf In London," because a song from that movie was on when they were talking. Then, my dad said they could meet each other but it had to be as friends. They continued to see each other as friends. 3 weeks after that day they 1st met each other, (which was Oct 24, 1991) he gave her a kiss. The rest is history. :P
"A chew toy!?" "It's NOT a chew toy!!" ~ I Am A Superstar!! : ) (talk) 07:10 PM, February 24, 2013 (UTC)
facts:    
Edit
Her name is Christy but she likes to be called Chris.
Her fave singer of all time i would say is Bruce Springsteen. She likes him a LOT! :)
She has 3 brothers and one sister. She would have had a 4th brother named James Lucky, but he died when he was a baby.
More coming soon! :D
My mom is a much kinder person then I will ever be...
Edit
Well do not get me wrong, I am a very kind person who LOVES to help people...but sometimes my mom does things even I would probably not do.
We know this guy named Earl from a nursing home...and his bday is in March. Today, (3-16-13) we went there, and she made sure to give him a cupcake for his bday! It's sweet of her to do that...I probably would have never thought of that on my own.
If we're at the store, and we forget to give something to the cashier, and walk out with something in the cart we accidentally did not pay for...she goes back into the store and pays for it. Call me rude, but I say, "We got it out of the store! Just leave it alone!" and she says, "No Stefanie that's not right...I will go back and pay for it."
Ad blocker interference detected!
Wikia is a free-to-use site that makes money from advertising. We have a modified experience for viewers using ad blockers

Wikia is not accessible if you've made further modifications. Remove the custom ad blocker rule(s) and the page will load as expected.