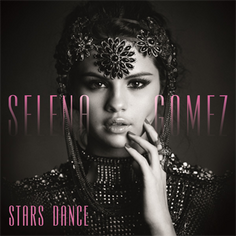 Okay so today is Selena Gomez's 21st birthday! Happy birthday Sel! And tomorrow her new album titled, "Stars Dance" is going to come out! I am so so so EXCITED!!!!!! :D
So far I have heard:
Come & Get It
Slow Down
Birthday
Undercover
Forget Forever
.....
I can listen to ALL of them on Youtube but I am trying to save some of them for the very moment I hear them on the CD. I am going to Target so I can get the Deluxe one with ALL the songs you can't get at other stores! So there's 10 songs on there I haven't heard yet and the rest are ones I know and love. Every one of her CDs I bought the day they were released and I made sure if there was a version at Target that had any bonus songs or DVDs i bought them! 
I am very excited to buy the CD and hear all the songs and see all the pictures :D I love that feeling! So YAY for tomorrow I sure hope my mom takes me to Target After work! c:
#iamasuperstar (talk) 18:20, July 22, 2013 (UTC)
It's been TWO weeks since I bought this amazing CD? Cool! I got the Target one first, because it has 4 bonus songs. :D LOVE! The whole CD is so catchy and amazing! Today (Well yesterday...8-4-13) I got the Wal-Mart one, because that one has a DVD with it! It was a nice little DVD but...there was a TYPO in the credits! I screenshot it, I will upload to this page! I LOLed! I think the Target version is better, mostly because that one is pretty much an official deluxe with more songs. Kinda shows how cheap Wal-Mart is, the person who typed the credits didn't even freaking proofread. Ahh well I love both versions and I think the CD is very good!
"Like A Champion" is often a song that I play before work! Don't forget to, "Walk like a champion! Talk like a champion!"
"Save The Day" What a catchy song! :O NO WAY I typed that and now it started playing! HAHA! Yes it's sooo catchy! Aeeee-oo-waaay!!!! OVER AND OVER!
Some of these songs are way too catchy, I can't even get them out of my head! LOVE! 
#iamasuperstar (talk) 04:22, August 5, 2013 (UTC)
Ad blocker interference detected!
Wikia is a free-to-use site that makes money from advertising. We have a modified experience for viewers using ad blockers

Wikia is not accessible if you've made further modifications. Remove the custom ad blocker rule(s) and the page will load as expected.