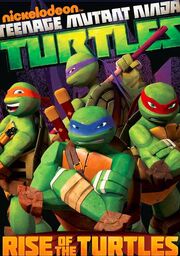 I have always liked the turtles, or as they're called,"TMNT"
But the real inspiration for me making the page was because of Jyeer! He LOVES the turtles! Margaret got him a DVD of them so today when I was babysitting him, for 3 whole hours we watched the episodes over and over ahaha. Once Margaret asked him, "Are you a boy?" and he said, "I'm a turtle!" And he is so protective of his turtle DVD and Coloring Book. He even saw a REAL turtle on TV and he said, "A TURTLE!" LOL :)
Anywho, since I was young, I have always watched the TMNT shows and movies! In the newer Nick Series, they say some some funny stuff!
"I am going to kick your furry little butt all the way to New Jersey!"
"Failure is an option, and so is me smacking you!"
LOL more coming later!
"A chew toy!?" "It's NOT a chew toy!!" ~ I Am A Superstar!! : ) (talk) 10:52 PM, March 29, 2013 (UTC)
The theme song is soo catchy!! Whenever it comes on I turn up the TV and me and Jyerr dance to it.:D Hahahaha! 
Here is the song! http://www.youtube.com/watch?v=Wr43pQwYT18
Ad blocker interference detected!
Wikia is a free-to-use site that makes money from advertising. We have a modified experience for viewers using ad blockers

Wikia is not accessible if you've made further modifications. Remove the custom ad blocker rule(s) and the page will load as expected.