I don't know what ya'll think of this show...but I really love it! :D It is a show on CBS, and it has some pretty good actors in it, I think. I know Kaley (Penny) from 8 Simple Rules, a show she used to play on with John Ritter, so I have that connection.
I actually started watching this show by accident. :) We were watching something on CBS (Two & A Half Men maybe? Not sure exactly...) and my mom fell asleep on her bed. (Yes I actually remember all of this lol) and she was sleeping and this show can on after it and I never watched it before. I sat there and began to watch it, and I was really drawn to the characters and I thought they were very funny! So i told my mom about it too, and we started to watch it regularly. I really like all of the characters, they are funny and have great chemisrty together. I think it is funny when Sheldon knocks on Penny's door, "Penny, Penny, PENNY!" LOL or when Sheldon and Penny sing Soft Kitty. :D
It's hard to say whether I have a fave episode or not, but I always love the Star Trek references because I love Star Trek! An actor from there, Wil Wheaton, occasionally guest stars on TBBT as himself, and he is Sheldon enemy. I remember one episode i really liked was when Leonard told Penny he loves her, and she was so unsure if she loved him or not that they broke up! I really think they belong together and they make a great couple, and they really care about eachother. Sorry if this makes no sense but I am rambling and have a lot to say, i will probably edit this later lol. ;) I Am A Superstar!! : ) (talk) 04:01, October 6, 2012 (UTC)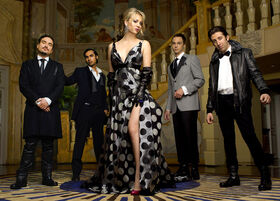 Ad blocker interference detected!
Wikia is a free-to-use site that makes money from advertising. We have a modified experience for viewers using ad blockers

Wikia is not accessible if you've made further modifications. Remove the custom ad blocker rule(s) and the page will load as expected.