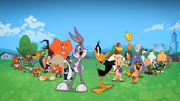 The Looney Tunes Show
is my second favorite television show and favorite show on Cartoon Network.
Why I Like It
Edit
I like it because it brings back the classic Looney Tunes character and gives them a fresh new pace. I also like the new character designs and how the episodes are about Bugs and Daffy and not about random Looney Tunes characters. It's my favorite Looney Tunes spin-off.
Season 2 recently aired with even more new designs! Bugs is now gray instead of purple-gray in Season 2, Lola and Tina get new dresses, Yosemite Sam and Granny regain their classic clothing, Porky is more pink and his feet are fixed, and Witch Lezah looks more like her classic self.